@
Name
Designation
Mobile No.
Email
Address
PG Qualification with Specialisation
Registration Number & Board
Date of Joining (dd/mm/yyyy)
Aadhaar ID No.
Dr.Leeladhar.D.V.
Professor & HOD
9449717171
drleeladhar_dv@rediffmail.com
Dola House, Goonadka Post, Sampaje Village,Sullia D.K. -574254
M.D. 2005
"Dravyaguna"
25389-10/02/2010
KAUP Board
02-09-2005
9592 5799 0128
Dr.Ravishankar Matta
Professor
9448211050
ravichanakya@yahoo.com
#4 Gurushri, 2nd Main Krishnappa Layout,Behind Hemavathi Water Supply Uttarahalli,Bangalore 560061
M.D. -2003
"Dravyaguna"
1277-03/08/1999
Andra Pradesh Board
09-06-2006
8760 1232 7422
Dr.Arathi Rajesh
Professor
9731953020
arathi_kallaje18@rediffmail.com

Patte House, Badagannur Post, Puttur T.Q, Dakshina Kannada -574334

M.D-2008 "Dravyaguna"

16595-13/08/2004 KAUP Board

26.06.2019

786707563836

Dr.Avinash K. V.
Associate Prof.
9886937454
avina138@yahoo.co.in


Vishaka House,Salethur Post,Bantwal Taluk,D.K
M.D. -2011
"Dravyagyna"
21875-21/11/2007
KAUP Board
18-07-2011
965265043646
Dr. U Santhosh Nayak
Associate Prof
8891406064
drsanthoshnayak@gmail.com
"Guru Kripa",Krishna Nagar, Houseing Colony Vidya Nagar, Udaya Giri Post, Kasaragod, Kerala.
M.D. -2014
"Agada Tantra"
10667-15/11/2010
TCMC
17.03.2014
889287489744
Dr.Pavithra P
Assistant Prof.
9743747575
pavithragowda35@gmail.com
D.No. 944 K.G.Road, Ganjam Shrirangapatna,Mandya Dist, Karnataka.
M.D. -2017 "
Agada Tantra Evam Vidhi Vaidyaka"
31000-02/04/2014
KAUP Board
03.01.2018
218327818048
Dr.Anusha G
Assistant Prof.
9686653714
anushagiridhar@gmail.com

#1-28, Akshaya,Nadka House Padpinangady, Karikala Post,Kalmadka Village,Sullia D.K.
M.D. -2018
"Agada Tantra"
30867-20/12/2013
KAUP Board
24.04.2019
721582833919
About Agada Tantra & Vyavahara Ayrveda
Agada Tantra is a branch of Ayurveda which deal with identification, diagnosis & treatment of various Visha conditions.
Department is well established with a classroom, departmental library with classical & contemporary books related to the subjects, well equipped laboratory and museum with several specimens of poison, venomous and non venomous snakes and other animals, weapons etc for infusing knowledge to students.
Post-graduation in Agada Tantra was started in the year 2013, with five post-graduation intake per year.
Department works in domains like organ toxicities caused by routine food and medicine, antidotal activity, environmental toxicity, residual and cumulative toxicity etc.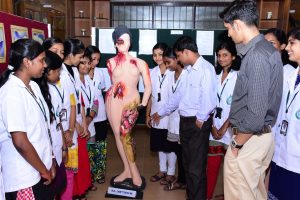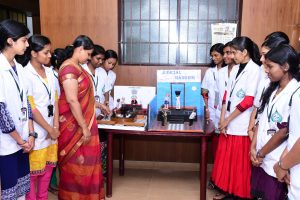 Department has come up with practice like weekly presentation of seminars, attending postmortems and many other which are required for present scenario.
Department also engages itself to different visits to Snake parks, Forensic Science laboratories, State Pollution Control Board, Court visits, Industries, Folklore practitioners, Surveys and many more. These visits help the students to update and understand importance of Agada Tantra in relevance to modern health and lifestyle. With this knowledge, the students are encouraged for practice of Agada Tantra with concepts of Garavisha, Dooshivisha and able to create awareness in the society.
466total visits,2visits today