@
Name
Designation
Mobile no.
Email
Address
PG Qualification with Specialisation
Registration Number & Board
Date of Joining (dd/mm/yyyy)
Aadhar No.
Dr.Rohini D. Bharadwaj
Professor & HOD
9448844089
ardeebi@gmail.com

Shri Nilaya Bharadwaj Ashram Aramboor,Sullia Post, Sullia Taluk D.K,Karnataka-574239
M.D. 1986
"Dravyaguna", "R.S.B.K. "
6515-03/08/1979
KAUP Board
27-08-1997
678811183247
Dr.Purushothama K.G.
Professor
9886717960
drpurushothamakg@gmail.com

Kattemane House Kenchambika Kirpa,Balugodu Village & Post Sullia Taluk D.K.
M.D. 2005,
"Bhaishajya Kalpana"
18961-26/04/2006
KAUP Board
01-10-2005
751279929238
Dr.Harshitha M.
Professor
9448211048
dr_harshitham@rediffmail.com

Kattemane House,Kenchambika Kirpa Balugodu Village&Post Sullia Taluk D.K.
M.D. 2008,
"R.S.B.K."
17156-26/11/2004
KAUP Board
02-06-2008
450175159166
Dr.Rohith Krishnan G.B.
Assistant Prof.
7736557129
rohithkrishnagb@gmail.com
Krishna Vilas,Vadakavilla Post,Kollam Dist,Kerala
M.D-2015
Bhaishajya Kalpana U
11839- TCMC
06.01.2016
568905829985
Dr.Sujatha M
Assistant Prof.
9341765709
sujatha.kalmath@gmail.com
#1074,EWS II Sharadadevi Nagar Mysore,Karnataka
M.D-2016
"Rasashastra"
15711-09/01/2004
KAUP Board
08.10.2016
733720756715
Dr.Pavana K.B.
Assistant Prof.
8762121397
drpavanakb07@gmail.com
Jyothi Nilaya,Madavu Post,Puttur Taluk, D.K.
M.D-2017
"Rasashastra & Bhaishajya Kalpana"
31594-26/05/2014
KAUP Board
24.02.2018
225251958786
Dr.Vishnu Narayana Prasad A
Assistant Prof.
7736403049
vishnunp@gmail.com
Bhishma, T.C 24/985, NCRA-113, Kaudiar Post, Nanthencode, Thiruvananthapuram, Kerala
M.D-2017
"Rasashastra & Bhaishajya Kalpana"
14770-18/07/2014
TCMC (TCCISM)
1.02.2019
561829049269
ABOUT DEPARTMENT OF RASASHASTRA AND BHAISHAJYA KALPANA
Department of Rasashastra and Bhaishajya Kalpana is a branch of Ayurveda which deals with the preparation of medicines by using Kashtaoushadhi (Herbal), Rasoushadhi (Mineral) and Kashta-rasoushadhi (Herbo-mineral). Kasthaoushdhi includes different parts of the herbs both in wet and dry forms. It includes toxic drugs also, but these toxic drugs should undergo specific samskara like shodhana etc. before preparation of any medicines. Rasoushadhi includes minerals, metals, and animal origin drugs. These drugs must undergo proper samskaras like, shodhana, marana, etc. before preparing medicines to avoid toxicity of the drugs. All the samskaras mentioned in the classics are performed in this department to both UG and PG students.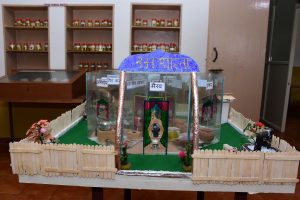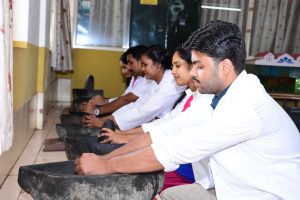 Different types of formulations i.e. Vati, Vatika, Churna, Bhasma, Kupipakwa rasa, parpati, pottali, Varti, Asavarishta, arka etc. are prepared. UG and PG practicals are taken regularly. The department is well equipped with all instruments which are needed for UG and PG practicals. Well maintained museum containing all the specimens of metals, minerals, herbal drugs, pharmacy model etc. for the benefit of students. For both UG and PG's Pharmacy visits are organized during the academic year to know about the pharmacy and industrial management regarding manufacturing. Department is attached with the KVG Ayurveda Pharma, where more than 150 products are prepared regularly.
PG course in the department was started in the year 2012 with the intake of 6 students.
342total visits,4visits today