@
Name
Designation
Mobile No.
Email
Address
PG Qualification with Specialisation
Registration Number & Board
Date of Joining (dd/mm/yyyy)
Aadhaar ID No.
Dr.Hariprakash.H
Professor & HOD
9448984057
sujatha.kalmath@gmail.com
Harikripa,Bolubail,Post Sonangeri, Sullia Taluk D.K.
M.D. -1984
"Kayachikitsa"
7590-25/10/1983
KAUP Board
07-10-1996
752905630469
Dr.Sathyamoorthy

Professor

9845298418

drbhatsm55@gmail.com

No. 2460 HT Double Road, 2nd Stage Vijayanagar Mysore-570017

M.D. -1983 "Kayachikitsa"

7251-16/07/1982 KAUP Board

02-06-1997

387988024762

Dr.Jyolsna C.J.
Assistant Prof.
9495448210
drjyolsnacj@gmail.com
"Chanath House,Pallikkai Bazar,Post-Chelembra,Via Malappuram,Dist KERALA
M.D.2015
"Roganidana & Vikruthi Vignana"
12386-09/11/2011
TCMC
08.08.2016
321561723692
Dr.Shashank Muralidharan
Assistant Prof.
9035516467
itsshashank.m@gmail.com
Kalyani House,Alarai Vayal Puthiyakotta,Hosdurg,Kanhangad Post,Kasarsgod Kerala-671315
M.D.2018
"Roganidana & Vikruthi Vignana"
33587-23/07/2015
KAUP Board
18.03.2019
399073454386
About Department of Roga nidana avum vkriti vijnan
Department deals with aetiopathological basis of diseases, clinical presentations and various investigative procedures.
The students are given training to develop their diagnostic skills, improve their knowledge in differentiating the signs and symptoms of various diseases and are also given training for proper interaction with patients, examination of patients in Ayurvedic and modern clinical methods, preparing case sheets, presenting case etc…
The academics conduct clinical classes with the support of updated imaging technologies. A central laboratory having facilities for hematological ,biochemical and microbiological investigations, where daily practical sessions are held under the guidance of lecturers.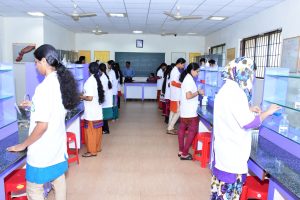 Facilities
Staff Room
Department library with reading room
Well-equipped clinical laboratory with a capacity to accommodate about 50 students at a time.
Department museum consists of different specimen and exhibited charts
431total visits,4visits today