@
Name
Designation
Mobile No.
Email
Address
PG Qualification with Specialisation
Registration Number & Board
Date of Joining (dd/mm/yyyy)
Aadhaar ID No.
Dr.Deena Prakash Bharadwaj
Professor & HOD
9448528919
drdpbharadwaj@gmail.com
"Shri Nilaya",
Bharadwaj Ashram,
Aramboor ,
Sullia Post & Taluk
D.K –Karnataka – 574239
M.D. -1986
"Shalya Tantra"
6528-13/08/1979
KAUP Board
07-10-1996
4941 4049 5825
Dr.Gopalakrishna Prasad M.P.
Professor
9844580989
drgkprasad@gmail.com
Prabhava House,
SN Nagar 1st Cross,
Sagar,
Shimoga-577401
M.S. -2001,
"Shalya Tantra"
11981-03/09/1998
KAUP Board
26-04-2010
7828 0407 9331
Dr.Harshavardhana
Professor
9480010060
drharshavardhank@gmail.com
"Shanthinikethana",
Kuthamotte,
Thodikana Post,
Sullia T.Q., D.K
M.D. -2009
"Shalya Tantra"
18477-05/10/2005
KAUP Board
09-06-2009
8322 0536 1708
Dr.Deepak C.Nair
Associate Prof
9645512077
drdeepaknairc@gmail.com
Kochukandathil House,Mankad Post,Thodupuzha T.Q,Idukki Dist. Kerala.
M.S. -2012
"Shalya Tantra"
9866-28/11/2008
TCMC
08.01.2013
9163 6409 3654
Dr.Santhosh Nair K.P.
Assistant Prof.
9620890537
kpsanthoshnair@gmail.com
Panoor Chandan Kai House,Karadka Post,Kasaragod Dist.KERALA,
M.S.2017
"Shalya Tantra"
31782-18/06/2014
20036-09/07/2018
TCMC
24.02.2018
648964322870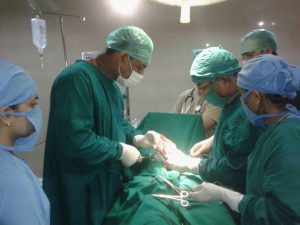 According to Sushrutha, Shalya tantra is best suited, when the problem is beyond just medical repair. In case like, Arshas (Piles), Bhagandara (Fistula), nadeevrana (Sinus), Arbuda (tumor and cysts), Gandamala (enlarged lymph node), Gudabramsha (prolapse rectum), Ashmari (stone), Mutravyadhi (retention of urine) and stanaroga (breast diseases), Shalya tantra should be used. The treatment would not only give faster relief to the ailing person, but also be beneficial in situations, where kayachikitsa will fall short.
Department has Minor OT, Major OT, Ksharasutra OT, with fully equipped surgical instruments. Special treatment like Rakthamoshana, Agnikarma is done by well trained and specialized Doctors.
Department includes under graduate and post graduate students. Who are trained by skilled and qualified faculty members.
453total visits,3visits today