@
Name
Designation
Mobile No.
Email
Address
PG Qualification with Specialisation
Registration Number & Board
Date of Joining (dd/mm/yyyy)
Aadhar No.
Dr.Rajashekara N
Professor & HOD
9449574560
drnraj06@rediffmail.com
Agrahara House,Post Subrahmanya, D.K., Karnataka- 574238
M.D. 2002
"Dravyaguna"
11985-03/09/1998
KAUP Board
04.02.2002
313741341576
Dr.Kavitha B.M
 Professor
9483139966
drkavithadprasad@gmail.com
D/o. B.M. Madhava Gowda, Rtd. R.F.O. Jattipalla House, Sullia Taluk,Karnataka
M.D. 2006
"Dravyaguna"
17435-17/03/2005
KAUP Board
23-09-2006
777680945519
Dr.Vijayalaxmi P.B.
Professor
9449902447
dr.vijijp@gmail.com
W/o. Jayaprakash K.,Kanathila House,Sullia Post,Sullia Taluk, D.K. Karnataka
M.D. 2009
"Dravyaguna"
11118-29/11/1995
KAUP Board
09.06.2009
305264836113
Dr.Raveesh M. V
Associate Prof.
9747254677
raveeshmv@yahoo.com
Vidyanidi House,Majakkar Malla Post,Maliyar,Kasaragod Dist.-671542
M.D. 2011
"Dravyaguna"
19852-05/07/2006
KAUP Board
04.02.2013
762484921311
Dr.Neethu P.
Associate Prof.
9995356463
drneethu@ymail.com
Puthiyedath House, Cheekkilode,P.O.,Atholi – via, Calicut,Kerala – 673315
M.D - 2012
"Dravyaguna"
10096-TCMC
20.10.2014
456897484330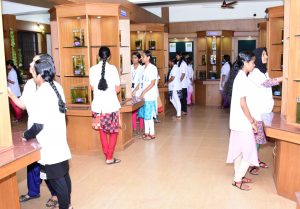 About Department of Dravyaguna Vignana
Department of Dravyaguna offer the best resource and facilities for the students. Qualified teaching staff provides proper training to the students. Post graduation in Dravyaguna started during the year 2008, with the intake of 6 seats every year.
Department has very well established laboratory, Museum, Department library and Seminar hall. Dravyaguna lab is well equipped for conducting all the practicals related to the subject.
Department has museum, where sample of various dry and wet herbal drugs have been displayed along with the photographs and charts. Herbal garden is developed in the college campus for the identification of plants. More than 250 species of herbs, shrubs and trees are maintained in the garden. Department frequently has activities like field visit, guest lecturing and seminars.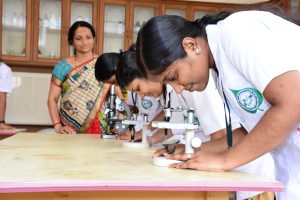 418total visits,2visits today