@
Name
Designation
Mobile No.
Email
Address
PG Qualification with Specialisation
Registration Number & Board
Date of Joining (dd/mm/yyyy)
Aadhaar ID No.
Dr S Thirumaleshwara Bhat
Professor
9449999158

[email protected]

Shanthimoole House,Nettaru Manikkara via Bellare,Sullia TQ D.K,Karnataka - 574212
M.D-1990
"Kayachikitsa"
9317-17/09/1986
KAUP Board
01.04.2019
5061 2551 8259
Dr Sachin Nadka
Associate Prof.
9964139245

[email protected]

Nadka House,Karikala Post,Kalmadka Village,Sullia,D.K
M.D. -2011
"Swasthavritha"
22617-06/06/2008
KAUP Board
21-09-2011
5055 3150 6591
Dr. Shabina T T
Asst. Professor
8105394717
[email protected]
Thundiyottu Thazha, Naduvathur, Keezhariyur, Kozhikode Dist., Kerala
MD(Ayu)-2017
Swastha Vritta & Yoga

11305
Travancore Cochin Medical Council, Kerala

08.08.2019
8484837738829
Dr Anusree M
Assistant Prof.
8129457989

[email protected]

Madathil House,Edachery P.O.Vadakara Kozhikode Dist.Kerala – 673502
M.D. -2014
"Swasthavritha"
10748-22/03/2010
TCMC
15.12.2014
3468 3308 6276
Dr. Jayavani

Yoga Teacher

9449171717

----
Dola House, Goonadka Post, Sampaje Village, Sullia D.K. -574254

BNYS
10.10.2005

700676741802

ABOUT Department of Swasthavritha
Ayurveda the science of life laid down all principles which are necessary in maintence of health under the subject swasthavritha.
Department is well established with class room, equipped laboratory and museum. Swasthavritha has unique concepts and methodologies to address primary health care. Department works in domains like personal health, Public health, Ayurveda deities, yoga and environmental studies.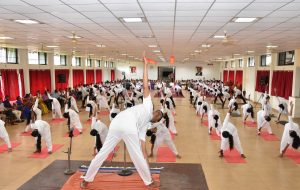 Department has come up with involvement in community activities in nearby villages in collaboration with NSS unit, conducting morning yoga session for IPD pts as well as for public, diet advice to healthy individual and patient in OPD as well as IPD.
Department also engages itself to different visits to water treatment center, PHC' S, visits to rehabilitation center and visit to Yoga and Naturopathy center.
With this Knowledge, students are encouraged for practice of Swasthavrita with concept of preventive, promotive and rehabilitative care and able to create awareness of increasing trends health and happiness in day today life.
348total visits,3visits today